Event Partner: Cassandra Europe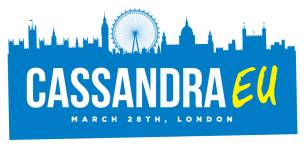 Berlin Buzzwords 2012 now has an event partner: Cassandra Europe. This event takes place in London on March 28, 2012 and it's a packed one-day event with two tracks: 'Case Studies' and 'Cassandra 101 - Beat the learning curve'.
We suggest to attend this event if you're using Cassandra and looking for better support or performance tips. Also, you should get a ticket, if you're wondering what all the fuss is about and if you want to learn more. Be quick and get your early bird ticket here!
Experts from Acunu will be on hand to share insights and they'll have a drop-in room where attendees can turn up for help and advice with Cassandra problems.
Further information about Cassandra Europe can be found on the official website.